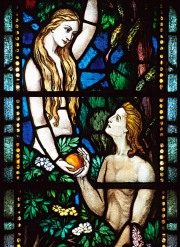 A Dictionary of Sex
in the Bible


And Adam Knew Eve gathers from the books of the Bible all sexually related stories, concepts, and laws, and presents them, concisely but with attention to context, in A-Z format (from "Aaron and the Golden Calf" to "Zipporah and Moses"). Sexually related material comprises overall such a significant portion of scripture that some knowledge of it is essential both in appreciating the Bible as a whole and in understanding the difference in attitude toward sex to be found between the Old and New Testaments. And Adam Knew Eve also deals with the issue of women's second-class status under the patriarchal system of the biblical world.
"Filled with useful information."--American Reference Books Annual
"Convenient dictionary form."--Christianity Today
"Everything you ever wanted to know about sex in the Bible."--Faith Community Builders
Click here to view the online edition.

Ecker's Biblical Web Pages | The Ron Ecker Home Page