The Eckers
From Bavaria to the Sunshine State
Ronald L. Ecker

Wackersdorf, Bavaria,
Coat of Arms



I hail from the family of Eckers that settled at St. Andrews Bay, in the Florida Panhandle, near the end of the 19th century. As I recently learned, having finally delved into family genealogy, this arrival in the Sunshine State was the culmination of an odyssey that began in German Bavaria over 150 years before.

19-year-old Christopher Ecker, the son of Andreas and Margaretha Bussmann Ecker, left the Bavarian town of Wackersdorf in 1737. He was bound for the New World as one of the "Pennsylvania Dutch." That's what German immigrants (including the Amish) were called in the British colony of Pennsylvania, "Dutch" being a corruption of "Deutsch" (the German word for "German").



An engraving by William Birch (1755-1834) of the
city and port of Philadelphia as it looked in 1800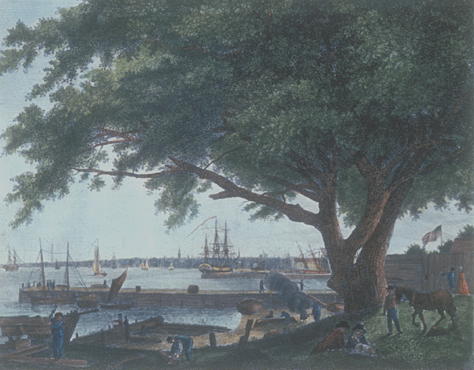 Christopher sailed from Rotterdam in the Netherlands to Philadelphia with 236 other immigrants aboard the Charming Nancy. It was a harrowing voyage of 83 days, during which several people died, mostly children, from the horrible food, inhumanly crowded conditions, storms, and disease. (The Charming Nancy herself would be lost off the coast of Virginia about 10 years later.)

Christopher became a farmer in Chester County, joined a Mennonite congregation, and married German-born Margaret Stager around 1742. They had two sons, Jacob and John, before Christopher tied of tuberculosis in 1747 at age 29.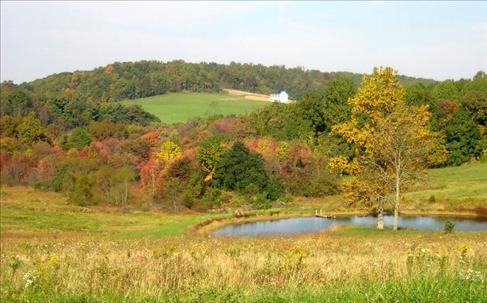 Chester County, Pennsylvania

His farmer son John married Elizabeth Engel, with whom he moved to Maryland, where he died in 1821, having fathered nine children. "The deceased," the Frederick Town Herald said of John Ecker on October 27, "sustained an irreproachable character through life, and died universally regretted."
John's youngest son Christopher (II) became a constable and a tavern keeper, and after moving to Ohio was a justice of the peace in Tuscarawas County. The oldest of five children by his wife Elizabeth (maiden name unknown) was Abraham Ecker, born about 1810. Abraham married Sarah Wallick, and they had six children, including another Christopher (III), my great-grandfather, born in 1835. Christopher moved to Chatfield, Minnesota, where he married Margaret McElderry in 1858.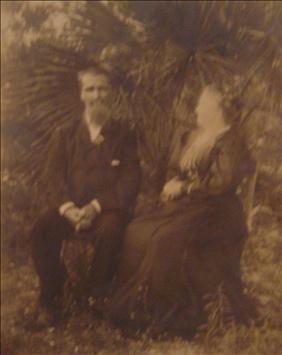 Christopher and Margaret Ecker
in Florida in the 1890's

This third Christopher moved with Margaret and their eight children to South Dakota in 1881. They were among the founders of Webster, where they lived in mud shanties. Christopher's oldest son Charles Thomas married Nettie Jane Moore, who started the first school in Webster. My grandfather Roy Walter Ecker was born in Webster in 1882 as Christopher and Margaret's ninth child.

Charlie and Nettie Ecker both suffered from tuberculosis. Hoping that a warmer climate would improve their health, the whole family moved to St. Andrews, Florida, in the mid-1880's. Nettie died, however, in 1887 at age 25, and Charlie a year later at age 28.



St. Andrews Bay, Florida
with turtle and seagulls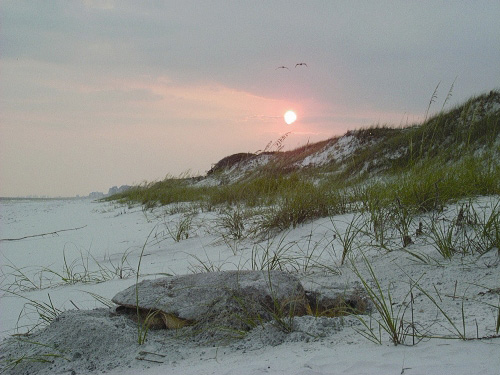 Christopher, an expert carpenter, built a combination house and hotel in St. Andrews. Called The Ecker House, it was advertised as "the only complete, plastered, finished and furnished hotel in the city." Hotel guests paid half-fare to ride on the Ecker-run Red Rover, advertised as "the only complete pleasure-boat on the Bay."

The Ecker House was sold in 1893 and the Eckers moved to Cromanton on the bay. Christopher died in 1908 at the age of 73. His widow Margaret died in 1914.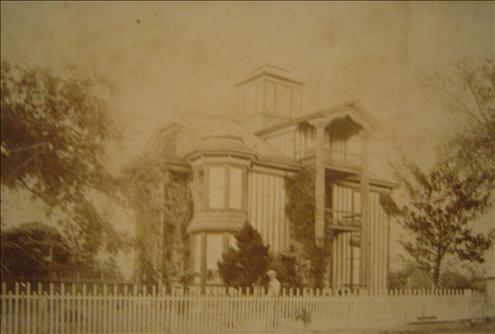 The Ecker House

Christopher's youngest son Roy married Ethel Hodge in 1911. They first lived in Cromanton, where Roy operated the ferry to Panama City, and where their sons Delbert "Bert" Roy (killed in WWII), Roy Walter, Jr. (my father), Charles Thomas Ecker (II), and Robert Marvin "Bobby" Ecker were born. The family later lived in Parker, where Uncle Bobby, the last of the four Ecker brothers, died in 2013 at the age of 90.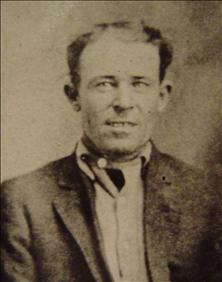 Roy Walter Ecker, Sr.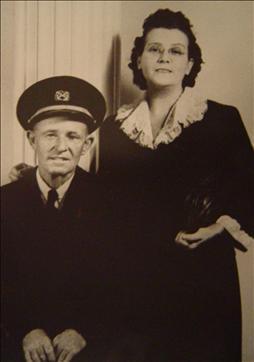 Roy, Sr. and wife Ethel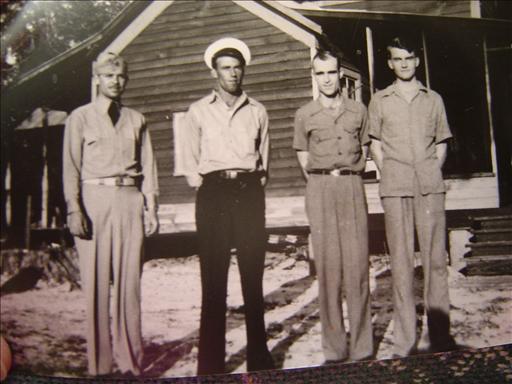 Roy and Ethel Ecker's sons Charlie, Bert, Roy Jr., and Bobby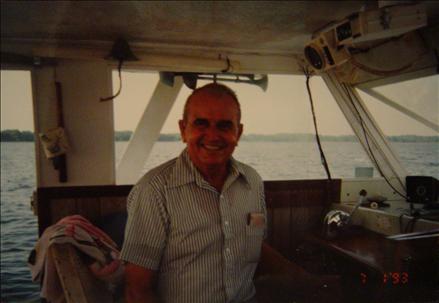 Bobby Ecker

My father Roy, Jr. married Lucille Pridgen in 1934. They moved in 1945 with my brother Terry and me to Palatka, Florida, on the St. Johns River, where Terry and I grew up, as did our sisters Kathy and Karen. Terry died in 1993. Dad died in 1999 at the age of 85. My mother died in 2013 at the age of 95.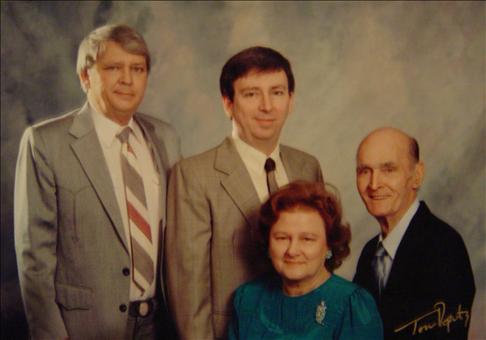 Terry, Ron, Lucille, and Roy Ecker

Uncle Bobby's first son Robert is a storeowner, and his second son Lewis is a minister. Bobby's daughters are Sylvia, Carol, and Christy.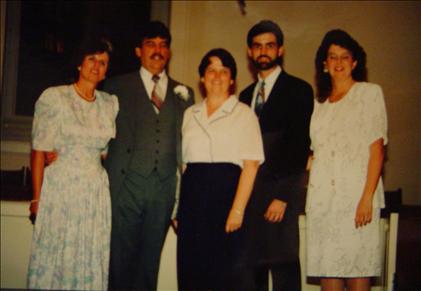 Bobby Ecker's children Sylvia, Robert, Carol, Lewis, and Christy

My late Uncle Charlie's daughter Sandra Mast, his son Charles T. Ecker, III, and Charles's wife Margaret live in the Palm Beach area. Charlie's wife Aunt Anna died in 2007. Charlie and Anna's granddaughter Pamela Kay (P.K.) Mast-Adelsperger (husband David) and two great-grandchildren, Blake David and Carly Anna, live in Chicago.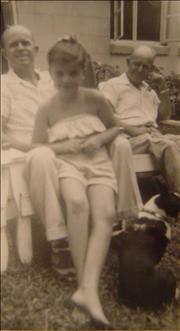 Uncle Charlie with his daughter Sandra and
my grandfather Roy Walter Ecker, Sr.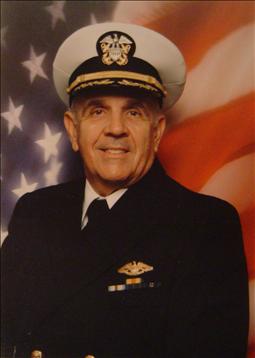 Charlie's son Capt. Charles T. Ecker, III,
USNR, Ret.

So it was only in recent years that I learned the meaning of "Pennsylvania Dutch," when I discovered that my forefather Christopher Ecker had immigrated to Philadelphia from Germany in 1737, and that I myself was therefore of Pennsylvania Dutch heritage.

What else could I do, upon learning this, but write a song about it?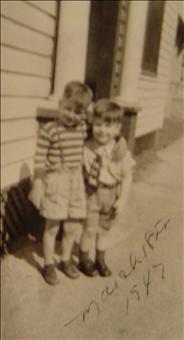 Cousins Ron and Charles Ecker
Palatka, Florida, 1947

Sources:
Allen, Gloria Seaman, "History in towns: Chestertown Maryland," Magazine Antiques, April 2003 (http://findarticles.com/p/articles/mi_m1026/is_4_163/ai_99696300/pg_2).
Chester, Winston, Full Box! 100 Years of Fishing and Boat Building History in Bay County (Southport, FL: Fire in the Water Publishing Company), 2001.
Ecker, Terrell W., Letter to Charles Thomas Ecker III, June 16, 1989.
Hostetler, Daniel, and Spina, Giovanni, "The Charming Nancy, the Harle Myth, the Trip, and Historical Comments," 2002 (http://www.hostetler.net/origins/nancy.htm).
Oyler, Teresa Elizabeth, Family Genealogy: Descendants of Andreas Ecker, July 19, 2002.
Palatine Project, "1737 Charming Nancy," ProGenealogists Family History Research Group (http://www.progenealogists.com/palproject/pa/1737cnan.htm).
"Passages from the Diary of Hans Jacob Kauffman, Passenger on Board the October, 1737 Voyage of the Charming Nancy" (http://www.wwco.com/~dda/charmingnancydiary.php).
Stielow, David, "Descendants of Christopher Ecker," 2007.

Ecker Memorial Pages
Contact:
hobrad at outlook dot com
Top of Page | Ron Ecker's Writings