Play Misti for Me
Scientist Anticipates Major Eruption of Peru's El Misti Volcano
from Geology News, December 12, 2001



Kara leBeau, GSA Science Writer, writes: Scientist Jean-Claude Thouret is worried about the one million people who live in the suburbs and city of Arequipa in southern Peru. The city's centre is only 17km from the summit of the active El Misti volcano. Thouret and his colleagues report new findings on El Misti's geology, past eruptions, and the reasons for probable future eruptions in the December issue of the Geological Society Of America Bulletin.

Recurring episodes of growth and destruction of El Misti's domes in the past have triggered avalanches and pyroclastic flows. Alternating explosive events have catalysed pyroclastic flows, surges, and tephra falls. On average, pumice falls occurred every 2000 to 4000 years, and ashfall occurred every 500 to 1500 years. The extent and volume of the small event during the 1400s and of the eruption about 2050 years ago indicate that future Misti's eruptions, even moderate in magnitude, will entail considerable hazards to the densely populated area of Arequipa.

"The possible impact of Misti on Arequipa is as worrisome as that of Vesuvius near Napoli," said Thouret, a professor at the Université Blaise-Pascal in Clermont-Ferrand. "I have sent several reports to the civil authorities in Arequipa - City Hall, Government of the Region of Arequipa, and National Civil Defense. The Civil Defense regional office in Arequipa thus became aware of the problem, but damage induced by earthquakes and landslides in the region has exceeded the potential effects of any eruption, yet to happen, at El Misti. Therefore, they do not pay too much attention to the potential volcanic threat."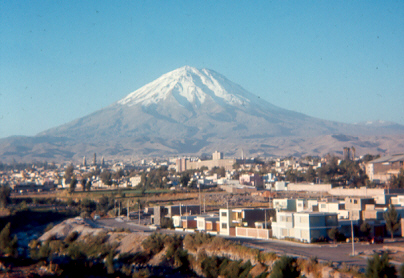 El Misti and Arequipa

In the GSA Bulletin article, Thouret and colleagues also offer other advice. "The lack of emergency-response policy and the lack of land-use planning prevent decision makers from regulating city growth. Future growth of the city should be preferentially oriented southeast and west of the depression but beyond 25km from the vent."

Arequipa suffered an earthquake on June 23, 2001. El Misti basically stayed stable - fumarolic activity increased at its summit right after the earthquake, but went back to "normal."

Thouret's work has focused on active volcanoes in Peru including Nevado Sabancaya, Ubinas, El Misti, and Huaynaputina. (In 1999, he published a paper on the large 1600 AD eruption of Huaynaputina, 70km east of Arequipa, in Geology.) He became painfully aware of the damage imposed by volcanoes when he was working on Nevado del Ruiz for his Ph.D. thesis in Columbia. It erupted on November 13, 1985 and its mudflows alone killed 23,000 people.

"El Misti's eruption is probable but we cannot forecast the magnitude of the future eruption unless we detect changes in the volcano's behaviour a few weeks or a few months in advance," Thouret said. "We are carrying out more work in Peru on active volcanoes and hazards, as well as on old volcanic deposits such as the widespread Tertiary ignimbrites. When I say 'we', I mean a group of French and German geologists-volcanologists from the Université Blaise Pascal (Clermont-Ferrand, France), the French Institute for Research and Development (IRD), and from the University of Göttingen (Germany). Of course, we also work in Peru with Peruvian colleagues of the Geophysical Institute of Peru and from two Universities in Lima, in the framework of an international agreement for research and cooperation."




Home | Arequipa | Clorinda | Work and Play | Cuzco and Pisac | Machu Picchu
Altiplano, Puno, and Juliaca | Lake Titicaca | Chile
The Ron Ecker Home Page
back to top