Anna Gawel


At a festive "Noche de Pisco" reception, departing Peruvian Ambassador Eduardo Ferrero and his wife Veronica proudly introduced Peru's latest celebrated export, Macchu Pisco, to area food and beverage experts as well as Washington hospitality honchos.

This fine pisco drink is smoother and more aromatic than traditional pisco sour cocktails, according to creator Melanie Asher, a Peruvian by birth who started this family business after receiving her master's in business administration from Harvard. "Since I was 12, I've been fascinated by starting my own pisco business. My hero was not some movie star. I had a 'pin-up' of Donald Trump instead," she joked.

"We are proud to have been chosen to be 'Best in Class' in the International Wine and Spirits Show and win 'Top Gold' from the Chicago Testing Institute," added the 31-year-old entrepreneur. "We make our Macchu Pisco from the first grape, pressing so it is akin to extra virgin olive oil. We donít add any sugar enzymes and we use copper pot stills exclusively."

For Peruvian Ambassador Ferrero, there is no question who invented "pisco," an unaged drink made originally from grapes more than 400 years ago in his native Peru.

"Pisco is recognized as a Peruvian product," he began. "Pisco was originally created in Peru and we even have a city with that name. Pisco is great not only for making the famous 'Pisco Sour' but is served as a fine brandy and will soon be offered all over the Washington area." According to Asher, Macchu Pisco is already available in the United Kingdom.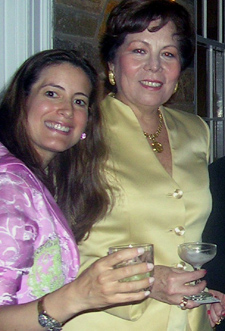 Melanie Asher (left) and
Veronica Ferrero

"In Peru and here at the embassy, promoting the expansion of trade to the U.S. with new products is one of our most important jobs," he explained. "You are a top market for us. We have 30 percent of our exports now with the U.S. With our new free trade agreement, which was approved in Peru last April and, hopefully, will be approved by the American Congress before the end of July, we look forward to an even higher percentage."

The ambassador, who was posted to the Organization of American States before becoming Peru's ambassador to the United States, said that half his time is spent promoting trade. "Forty percent of the green asparagus in the U.S. are from Peru, as well as our growing shipments of artichokes, mangoes, limes and mandarin oranges," he noted.

Asher, daughter of the late Mark Asher, a beloved Washington Post sports writer for the past 50 years, said she is proud to be a "gringa" and return to Peru to create her "limited-batch" production for what she hopes will be consumption worldwide.





The official Macchu Pisco website is here.

Home | Arequipa | Clorinda | Work and Play | Cuzco and Pisac | Machu Picchu
Altiplano, Puno, and Juliaca | Lake Titicaca | Chile
back to top